September 3, 2019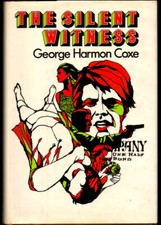 I've had a couple Cocktail Talks from George Harmon Coxe on the ol' Spiked Punch, but not an inordinate amount. Which is a bit odd, as I sorta like his probably main star, photographer/drinker/mystery solver Kent Murdock. Maybe I just need to track down some more books? Recently, I did score a good one, The Silent Witness, in a two-novels-in-one hardback-book book, if that makes sense (the others was a great Simenon, Maigret and the Informer, and why don't we do these "duo" books anymore? Modern authors too snooty to share?). Interestingly, it doesn't star Mr. Murdock, but instead PI Jack Fenner, though Murdock shows briefly, as they both share the same fictional universe! I love that! It's a crossover, in a way, and I think there were more, and Fenner shows up in small roles in the Murdocks I've read. We talk about crossovers now in movies as if they never happened before, but here we are. Oh, the book's a good read, too, with a more slow burn development than many (the murder doesn't happen for say 90 pages), and a neatly draw-out denouement between PI and villain, with lots of clues along the way. A good one – especially when paired with a book staring our old pal Inspector Maigret, and when featuring this quote.
But I can buy a drink while you two get acquainted . . . what will it be? He added when the waiter approached.

Nancy showed no hesitation. "A very dry Martini with a twist, straight up." "I think – maybe a Cinzano and soda, with a bit of orange peel," Kathy said, and Fenner asked for a Scotch and water.
— George Harmon Coxe, The Silent Witness